Fishing is Special
In pursuit of the Wild Salmon (not hatchery stuff)
---
"A River Never Sleeps"
"I still don't know why I fish or why other men fish, except that we like it and it makes us think and feel. But I do know that if it were not for the strong, quick life of rivers, for their sparkle in the sunshine, for the cold grayness of them under rain and the feel of them about my legs as I set my feet hard down on the rocks or sand or gravel, I should fish less often. A river is never quite silent; it can never, of its nature, be quite still, it is never the same from one day to the next. It has a life of its own beauty, and the creatures it nourishes are alive and beautiful also. Perhaps fishing is, for me, only an excuse to be near rivers. If so, I'm glad I thought of it."........Roderick Haig Brown, 1946 [More]

---
[Master Site Menu] [Jon's Home Page]
[Salmon] [Reel] [Quotes] [Links] [Email]

This page awarded the Worm Award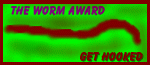 Click the worm to check him out
For those interested, my brother Richard and a fellow contracting friend, Terry Deeny, guide and put together fishing trips. They do a nice job in scouting sites and organizing trips. They can be reached at 1-206-483-1971 (Rick Egge) or 1-206-722-0633 (Terry). They're not into computers, so more primitive communication methods must be used. Any E-Mail inquiries will be passed along.

There are six species of Pacific Salmon indigenous to the Western Coast of North America. This was recently revised through a decision by the American Fisheries Society from five to include Steelhead (now designated as Oncorhynchus Mykiss) in recognition that there is no generic differences in the species from previosly grouped Pacific Salmon. Unlike their relative, the Atlantic Salmon, a Pacific Salmon returns only once to breed and die (the Steelhead is an exception to this behavoir and some of the species return to spawn more than once). Salmon turn reddish in color (the Steelhead turn blackish) when returning into fresh water, and males develop hooked noses. From their exact redd, where they hatch in the many rivers of the West Coast ranging from Alaska to California, the Pacific Salmon goes to sea and returns, traveling thousands of miles, to renew and die in predetermined life cycles. It is one of the wonders of nature.
I owe the revision to include Steelhead to Barry M. Thornton, a fisherman and author, who lives on Vancouver Island. Berry is new to the internet but not fishing and I have included his new two books below for those interested. He also writes articles and three columns: a local weekly 'Outdoors' column for the Comox Valley Echo , a monthly 'Flyfishing for Steelhead & Pacific Salmon' for the Island Angler magazine and the 'Canada West' column for Western Flyfishing . His EMail address is thornton@mars.ark.com.: Barry's post on the change goes like this:

Of course there are all the curmudgeons like myself and Bob Stappler who aren't convinced by this scientific voodoo. As Bob put it:
"I am somewhat skeptical about the reasons behind the reclassification . I know DNA similarities have been cited to substantiate this matter. I never have seen any comparison of the DNA of Salmo Salar (Atlantic Salmon), Salmo Trutta (brown trout) or Salmo Clarkii(cutthroat) and the Pacific salmons. Unlike the Pacific salmon, steelhead don't die when they spawn. They go back to the salt chuck where about 5% survive the rigors of the open ocean and return to spawn a second time. Also, as I recall the upper jaw of Onchorhynchus becomes hooked at sexual maturity while in the steelhead it's the lower jaw. Bright mature buck steelhead entering the river to spawn have the distinct red gill plates and lateral red stripe typical of the rainbow trout. How significant were the similarities between the DNA structures of these critters? After all the DNA of chimpanzees is supposed to be at least 95% similar to human DNA. No one would argue we're the same species. I can't help wonder if any commercial fishery concerns had a role in this change. I think Salmo Gairdnerii is getting a bum rap. But then what do I know about Ichthyology? I'm just a retired Boeing engineer."
Spawning behavior of the six species are similar. The female digs a redd in a riffle that is usually below a pool. Although several males are around, one is usually dominant, and keeps the other suitors at bay. The female swims across the redd and lowers her anal fin and on cue the male swims along side and quivers. This behavior prompts the female to lay her eggs. She then digs the gravel to cover the eggs with her tail and the process is repeated until her supply is spent.