Wibe & Egge - A family from Norway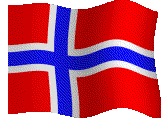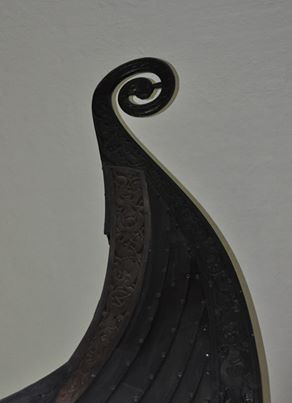 (last data update 6/17/2013)
My Other Family Pages
Virtual Cemetery for families of Gus and Nana Egge - at Find A Grave
The Chenoweth Family - [English]immigrated abt 1700
The Holt Family - [English] a line of Richard Holt - immigrated before 1700
The Laprath Family - [German]immigrated 1870
The Waltman Family - [German]immigrated 1738
My Family Tree
Site menu

Gus And Mary Egge
The 5 Egge "kids"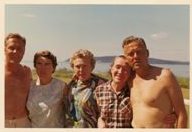 children of "Gus" and Mary Egge: Bob, Ruth, Ella, Norma and Dick
the US "Egges"
Recently families of "Gus" and Mary Egge had a family reunion (June 2007). The picture below shows 8 of 11 living cousins, all grandchildren of "Gus" and Mary Egge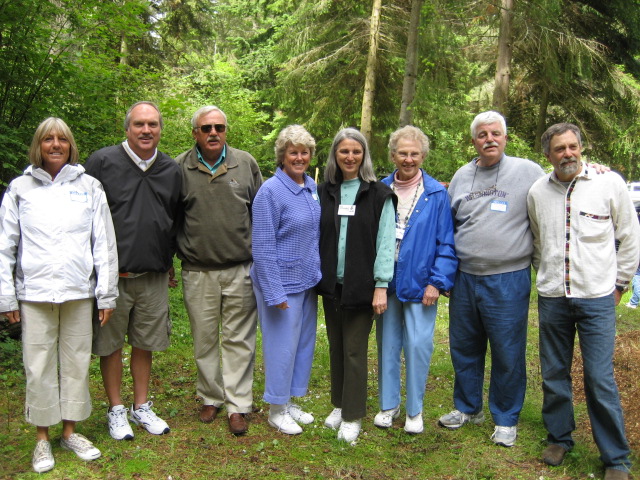 Right to left: Mary Parsons, Dan Ritchie, Rick Egge, Janet Acarregui, "Bunny" Pfister, Ruth Marie Jones, Jon Egge, Steve Egge
The Oslo "Egges" hosting
In June of 2013, my brother Steve and his family took a trip to Norway. This is a picture of their evening in Oslo with our second cousins Rannveig and Ingeborg (granddaughters of Peter) and their family. On the menu: Fish, reindeer and moose stew, lefse, lingonberries, cake and ice cream


[Ryan, Anders, Stein, Rannevig, Sigrid, Ingeborg, Ross, Steve, seated: Donna, Rebecca]
How this got started
Wibe is a Norwegian Family name, stemming on my side from my great-grandmother Oline Pedersdatter "Lina" Wibe. In America the names is sometimes spelled Vibe it is phonetically closer to the Norwegian pronunciation. Recently I was contacted by a third cousin once removed, Mark Wibe who at the time was attending Central Washington University. His Wibe line stemmed from Oline's brother Frederick Andreas Torelius Wibe. Their family lived in Ogndal, Norway. The lines here are presented from their grandfather Jacob, through Peder Jacobsen Wibe, their father. Peder came from Steinkjer and his wife Ingeborg Olava Olsdatter Osteras from Osteras. Mark also introduced me to the book "Osteras Slekten by Andreas Strugstad". The forward in this book was written by Peter Egge, my grandfather's brother and a well known Norwegian author. Mark has a Wibe webpage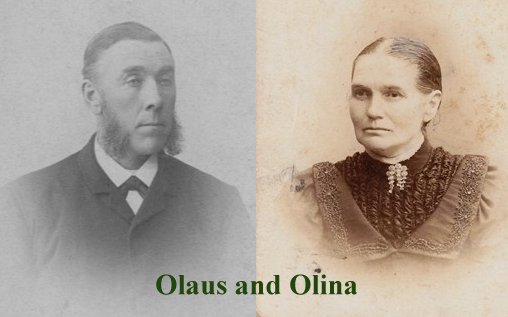 This is a picture of the parents of Gus [credit: John Axelson]



Four known descendants from this family immigrated to the United States just before the turn of the century. My Grandfather Gustav Adolf Olaussen Egge grew up in Trondheim, Norway and came over in 1900, age of 17 from a Norwegian freighter. He had $10 cash with him and stated he was going to visit his uncle Johnson in Finnemore, Wisconsin. [I have no idea who this is]. Mark's ancestor, Olaf Peter Fredericksen Wibe, came with two of his brothers, Paul and Frederick, around the same time. They were first cousins to my grandfather. The associated pages herein trace the known America lines of this family along with the lines we know about that still reside in Norway. These Norwegian lines can be found in the book: Osteras Slekten by Andreas Strugstad, pub. 1934. This year 2021, thanks to Jan Nyborg, I have found a first cousin once removed of Gustave's, Ole Olson Ingvald Bronstad, a grandchild of Peter Egge, the brother of Olaus Egge, who immigrated to North Dakota and the Montana in 1904. This information was from two Bronstad genealogy studises (Familien Bronstad fra Snåsa by Terje Bronstad & Etterkommere av Ole Pedersen Bronstad by Ingolf Bronstad)
Norwegian Surnames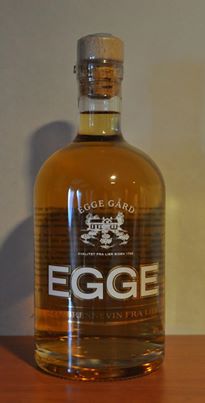 Anyone associated with Norwegian genealogy quickly becomes immersed in the patchwork of surnames that are common to early and even modern Norway. To my understanding naming practices in Norway have changed several times and even today are in a state of flux. By tradition sons and daughters became named for their father, a system called patronyms. The common example that we all learn in grade school history is that Leif Eriksen was the son of Eric the Red. A son Bjorn of Lars would become Bjorn Larsen, a daughter Oline would become Oline Larsdatter. Sometimes a third name was attached, often derived from the name of place or farm where they lived or based on something they lived near like a lake, a woods or a hill. Norwegians didn't look on this third name as a surname but rather as a means of identifying themselves from others with the same patronym. A move could mean a name change, but sometimes not. Eggge is basically a farm name. Olaus was born at Eggeskogen tenant farm near Steinkjer. When he moved to Trondheim as a young man, he assumed the name Egge. I was told that the name Egge is a word for hill and there are hundreds of ways to say hill in Norway. Now I have found that rather it means ridge or edge, and certainly Norway has lots of ridges and therefore a few Egges too. There was several Egge Farms in Norway, I know of one near Oslo and one near Steinkjer. Sometimes daughters would retain the last name of their mother instead of the father and thus have a different "surname" from their brothers. Wives would often keep their "maiden names". As an example I find that one line of my ancestors goes like this: Lars Nilsen Rade (the son of Nils) had a son Hans Larsen (b 1664) who had a son Lars Hansen Stenkjaer (b 1724), who had a son Ole Larsen Stenkjaer (b 1755) who married Ingelborg Sakariasdatter Stigum (b 1771). They had a daughter Ingeborg Olava Olsdatter Osteras (b 1805). (this is not her married name, but rather Osteras was where the family lived.) Olava married Peder Jacobsen Wibe (b 1812) had Oline Pedersdatter "Lina" Wibe (b1840) who married Olaus Andreassen Eggeplass (b 1841) who know called himself Egge. They had my grandfather Gustav Adolph Olaussen Egge (b 1883). A clearer explanation of this can be found under the topic Names at the URL: Velkommen to Norway Genealogy. Another attempt at explaining the mess can be found at Norwegian Naming Practices. In all likelihood after reading either or both you will still be confused, a common Norwegian trait, but at least your confusion will be based on knowledge that is confusing rather than just common ignorance. Of course if you are Norwegian like me you won't mind being confused at all.

---
The Wibe Surnames
Many Norwegian names are from farms where the rural population lived. One such name in my ancestry is Osteras. There was a Wibe farm, however my great, great grandfather, Peder Jacobsen Wibe did not live there. He was born on the Kj r s farm. This is the story as related to me by my 3rd cousin, Arnstein Hjelde, in Norway: "According to the family tradition, Peder was doing his military service in the cavalry. At that time, not only the men were drafted, but the horses too. He was an officer, a second lieutenant. And while he did his service at a camp called Rinnleiret (located between Levanger and Verdal, about 20 miles south of Steinkjer), he had a horse belonging to two sisters at the Wibe farm. Further more, it was common that the soldiers were called by the origin of the horse they had, so while doing his service, Peder was referred to as "Wibe". Obviously he liked the name, after leaving the army, he still continued to call himself Wibe. Thus, there are no family relations between "our" Wibe and the Wibe family living at the Wibe farm. So as you see, this branch of the Wibe family is really named after a horse!".
---

Contact information - Jon Egge
This is an ongoing family search to located all possible lines of this family. If you have any information to add to this project please contact me by EMail at jegge@chenowethsite.com or by regular Mail at P.O. Box 1188, Woodinville, WA 98072. Thank you


Wibe Cousins
---

Norgewian genealogy links
Norwegian-American Genealogy by John Follesdal
Nowegian Notes on the Net
The Norwegian-American Bygdelagenes Fellesraad
Scandanavian Humor
---
Surmane Index
Name List
Descendants Outline

number in parenthesis indicates individuals with this name
Acarregui (4) Adams (9) Amick (1) Andersen (4) Anderson (2) Barton (2) Bennett (7) Bitts (1) Blaz (3) Brennan (1) Burkhardt (1) Burns (1) Bybee (1) Candler (1) Carpenter (2) Cassell (2) Caul (18) Chenoweth (1) Christiansen (6) Clausen (6) Cobb (1) Cole (8) Colender (1) Convery (7) Courville (5) Dean (1) Drake (1) Duletsky (1) Egge (38) Ellis (1) Engelbert (1) Ferris (1) Fitzpatrick (4) Flagg (3) Gemmell (1) Gertsch (4) Gillian (1) Granberg (6) Greenlow (1) Hahn (4) Halls (1) Haussler (3) Havey (1) Hawes (1) Hawkins (1) Helzer (1) Hills (3) Hind (1) Hollibaugh (1) Hubbard (1) Hunt (2) Jacobsen (1) Jones (7) Kartinan (2) Kastelecky (1) Keel (1) Kenney (1) Kildal (1) Kober (3) Kristianne (1) Kristiansen (6) Kuhia (1) Laird (2) Lake (1) Laprath (1) Larsdatter (1) Lee (2) Lilja (1) Lockert (1) Mallory (1) Matheson (1) Matz (1) Mccallum (4) Mclean (5) Miller (1) Morris (4) Morrow (3) Motes (1) Nancarrow (1) Newman (1) Nilsen (1) Oksnes (2) Olson (22) Osteras (1) Otto (1) Pang (1) Parsons (4) Pedersdatter (1) Peterson (13) Petteren (1) Pfister (5) Pointek (1) Ramstedt (1) Reddick (1) Reiser (1) Ritchie (5) Roche (4) Selstrom (2) Servey (3) Shorb (1) Skog (3) Slattery (1) Snyder (1) Spencer (1) Stanfield (3) Stark (1) Stecher (4) Steen (5) Steensen (1) Sundberg (1) Sundvick (1) Svendsen (1) Swain (1) Taylor (12) Thimm (3) Thompson (1) Trigg (2) Underwood (1) Vibe (38) Walker (3) Walsh (2) Westland (3) Wibe (61) Williams (2)

---
Click hand

to return to Egge Family Tree...



There Have been
visits to this page since 6/14/96 including construction events by me. The counter provided by Web Counter.
Last Revision 07/24/04, updated Apr 20, 2021