Kristofferson
Chenoweth Family Site
Descendants of John Chenoweth & Mary Calvert
from Colonial times to present day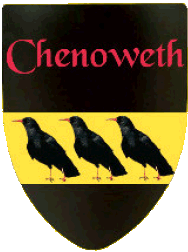 (also Chenowith, Chenowth, Chinowth, Chinworth, Chenworth, Chineworth, Chinouth)
The world's most extensive knowledge base of Chenoweths in America
The Chenoweths of John and Mary are a Colonial Family of Cornish roots that started in the Pennsylvania and New Jersey area about 1703 and moved to Baltimore Co., MD in the 1730s. In the 1740s the father and 3 of the sons moved to Frederick Co., VA. Two of the sons stayed in Baltimore Co. Virginia became a springboard for the westward movement and the Chenoweths a family of pioneer-settlers. At every stop they settled, parts of the family remained, while others moved on. The next immigration of anyone with the Chenoweth name did not come until 1820. In the 2000 Census there were 4,699 Chenoweths and 231 Chenowiths living in the US. Spread across America, 9 of 10 of them [by various spellings] are descended from this one Colonial Family
---
(site established Dec 1995)
(last site update June 11, 2012)
(general site information updated rarely)
(based on site database cutoff date: September 22, 2003 note: the working database is now 42% larger than that posted)

Webmaster: Jon D. Egge Snail Mail: PO Box 1188, Woodinville, WA 98072
With the close of 2011, the website has be in operation for 16 years, on almost a daily basis. The database has expanded from a few thousand to over 184,000 names. Over 3,100 cousin contacts have been made on the internet and hundreds of others by snail mail. The genealogy lines of earlier times have been corrected to a true structure through the 4th generation. Dozens of previously unidentified lines have been successfully placed within the tree. A solid sourcing to Census data for all Chenoweths as been accomplished and the entire known family has been identified in both the 1850, 1860 and 1870 Censuses. The story of the family has been written in rich detail. Ten National Reunions have been staged. The quarterly newsletter has published its 42nd edition. I can't thank the cousins, especially Pete, Dot, Greg and Joyce enough. This has truly been a rewarding experience.
I am no longer actively updating the website, though I am still be engaged with working on the database. I wish you all a Happy New Year. -- Jon Egge, Saratoga Passage, Jan 2, 2012
I actually started a new page. It's called Jon's blog. we'll see how this goes. Every one in a while when working the database, I find an interesting story. I use to put these in the newsletter's, but will add them to the blog for now. - Jon Egge, February 14, 2021, Bells Beach, WA
---
Chenoweth Site Check list! (or Cousin Questions)
IF: Please take the time to visit the site introduction page explaining the site. It will increase your enjoyment and accessibility to the massive information available at this site. If you are a cousin or a researcher, it will explain all you need to know to contact me and get listed. It also contains a site search engine. It will also answer many of the questions you would otherwise ask of me.
your name is Chenoweth?
, it is of particular interest that we hear from you. It does not matter how "chenoweth" is spelled. Nine out of ten Chenoweths in this country come from this one family. Each Chenoweth contact helps in our knowledge. If you have derived pleasure from this history, recognize that it exists because others before you have taken the time to preserve some family history. This is your opportunity to return the favor for those who will follow in the next hundred years. Please Email me

looking for a specific page or topic?
Please use the site menu
interested in Chenoweth genealogy?
Please visit the background page. If you are a researcher or interested in the early family, this page is a must. There have been so many changes in the basic alignment of the branches of the Chenoweth family at this website from the two written histories of Hiatt and Harris, it is important to review the 'questions and disputes' section of this page. Also basic to those interested in research are the site Census pages on the family.
want to know how the Chenoweths moved west?
Please visit the Where they lived, a study by state.
looking for a specific name or line?
Please use the alphabetic tables: [Chenoweth][Other] or the descendants outline, located on the menu page or try the new Chenoweth males listing
looking for a specific phrase or place?
Please use the search engine located on both the menu page and introduction page.
a descendant looking for a close signed-in relative?
Please use the cousin pages: [by location] [John(2)][other children and Chenoweth lines]
view the latest newsletter?
Jun 2012: Vol 11 No 2 Started the summer of the Elkins Reunion in 2002 by Peter Chenoweth, all copies of this quarterly publication are available at the site including a master index of articles. If you are not familiar with the site or the family genealogy, I invite you to browse the many and varied articles posted in the newsletter. Hopefully it will whet your appetite. Reading through past newsletters will give you the sense of many site and family activities.
looking the roots of the Chenoweth name?
Please visit the background page.
who was John Chenoweth?
Please visit the background page.
can you help?
identify a SSA listing, supply a missing date of death?, missing families in the Census: [1860] [1870]
want to add a story?
A new page for personal stories and biographies of "Chenoweth grandparents" is a great place to preserve a memory.
want to purchase the Harris book?
. The Chenoweth Family in America pub. 1994
want to learn about the reunions?
. 2012 will be held on 25-29, July 2012 in Winchester, VA hosted by Greg Wulker and Darlene Dolbey: see for The Chenoweth Family site for other reunion information.
interested in pictures?
TEMPORARILY SUSPENDED: Chenoweth Photo Gallery: William Charles Chenoweth of Norfolk, VA has agreed to host a Chenoweth picture gallery. Contact William
want to contact me?
Jon D. Egge Snail Mail: PO Box 1188, Woodinville, WA 98072
PS: database offer!
I now have the ability to "burn CDs". If you are interested in a CD containing:
gedcom of the privatized database as of July 2010. This file is 57,000 names larger than the posted database and contains many corrections.
a copy of the entire Chenoweth website
the complete data files on the family in the 1880 Census
a spreadsheet of the entire family in the 1850 Census
a spreadsheet of the entire family in the 1860 Census
a spreadsheet of the entire family in the 1870 Census
a spreadsheet indexing the Chenoweth Genealogy of the 1925 Cora Hiatt book.
PLEASE NOTE: To the best of my knowledge, this file is too large to be handled by the new FTM 2008 & 2009 versions. IT is fine for FTM v16 or prior.
Then Email me your mailing address and send me $35.00 (PO Box 1188, Woodinville, WA 98072) and I will "burn you a CD" and mail it. Shipping is included. This material is intended for your private use only. You must be a family member to be eligible. Updates as availble can be obtained for $10 on request by previous CD purchasers.

---

caution: the database contained here has received many unposted corrections. Anyone seeking to use database information should contact me

[Main Menu] - [ Site Introduction]

Page Menu
THE FAMILY:
[The first family: John & Mary] [Spellings] [Given Names] [Major Family Ties] [A Little Geography: Where we live]
[Discussion of numbers]

THE DATABASE:
Menu for: [Surname Index] [Chenoweth names] [Other surnames] [Descendant tables]
Start of: [Surname Index] [Chenoweth names] [Other surnames] [Descendant tables]

THE TECHNICAL STUFF:
[Background of Chenoweth genealogy] [Disputes] [Chenoweth Wills] [ Census pages] [ The great grandchildren - the bridge generation] [daughter marriages not found in Harris] [Blind alleys and Harris Unknowns] [Unknown Chenoweths in the Social Security System] [Database sources] [Database updates] [Coat of Arms] [EMail & Snail Mail]

OTHER CHENOWETH FAMILIES AND SITES:
[Other Lines: William Chenoweth b:1682] [Beginnings: Link to 12 generations in England] [Chenoweth GenDex Site]

SPECIAL FEATURES:
[Harris Book and other books] [Reunions] [Contributing Web Cousins and Notices]
[Noteworthy Chenoweths] [Chenoweth Heirs Association]

LINKS TO SPECIAL PAGES:
[The places they lived] [Wars: Chenoweths who served] [Arthur L. Keith] [Chenoweth Massacre]
[The Assassination of Dr. A.W. Chenoweth] [The Road to Kennesaw] [Kissing cousins] [Twins: A study of numbers]

My Other Family Pages
[The Laprath Family] [The Holt Family] [The Waltman Family] [The Wibe Family] [My Family Tree]

---
Site Navigation : There are over 441 pages to the Chenoweth site. [233 pages are descendant outlines, 109 various index listings, 66 information pages and narratives and 33 newsletters.] To easily navigate site a small separate
The Family of John Chenoweth and Mary Calvert
All eight children known by will married and had children. Lines are known to present day for seven of these eight 2nd generation families.
John Chenoweth b: Bet. 1682 - 1683 in Cornwall d: Abt. May 1746 in Frederick Co., VA
m: Mary Calvert b: December 19, 1687 in Pennsylvania? m: Abt. 1703 d: Bef. 1737 in Maryland Presumed Father: John Calvert Presumed Mother: Judith Stamper
John Chenoweth b: 1706 in Pennsylvania or Maryland d: March 05, 1771 in Frederick Co., VA m: Mary M. Smith b: Bet. 1701 - 1713 in Baltimore Co., MD m: November 26, 1730 in St. John's Parish, Baltimore Co., MD d: Aft. 1773
Mary Chenoweth
b: 1708 in Pennsylvania or Maryland d: Aft. 1746 m: John Watson b: Bef. 1703 m: May 24, 1733 in St. John's Parish, Baltimore Co., MD d: Abt. 1740 in Baltimore, MD